Carpet is an essential part of your home. It provides comfort and is aesthetically pleasing to the eye. However, carpets suffer from rips and patches over extensive use of time. These rips and patches damage the look of the carpet.
Since replacing the carpet is expensive, you can always opt to repair them. But most of you don't know how to replace patches of carpet. Here, it's best to let a professional carpet repair specialist handle this job. Professionals test and repair the carpet to bring it back to its original state.
Steps on How to Replace Patches of Carpet With The Help of Professionals
Carpet patching is a quick, easy, and economical solution to bring it back to life. Carpet patches repair carpets, damaged because of cigarette burns, rips, or stains.
Below mentioned are the steps on how to replace patches of carpet with the help of professionals.
Step 1: Inspect the Damage and Find Remnant Pieces of Carpet
Professionals will inspect and measure the damaged section of the carpet. If the damaged section is bigger than 1 square foot size, then you may have to replace the carpet.
After measuring out the damaged section, it is essential to find remnant pieces of carpet left during the installation. If there aren't any leftovers, professionals suggest cutting off pieces of carpet from either under the bed or furniture.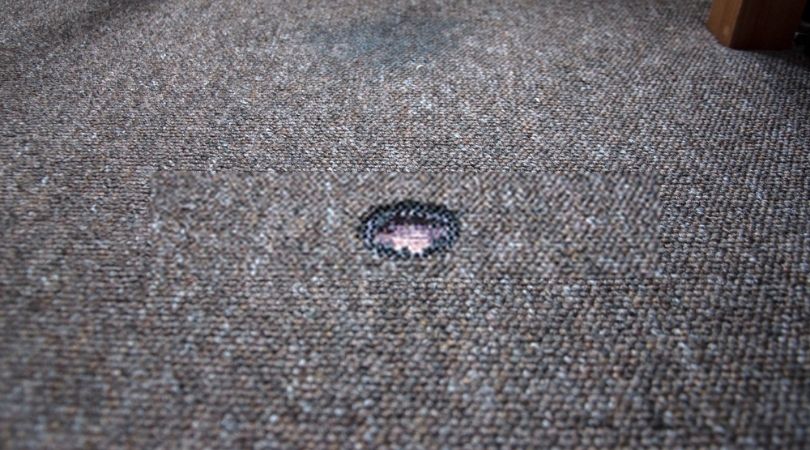 Step 2: Cut Off the Damaged Section and Check the Nap Direction
The professional with the use of a utility knife will cut off the damaged section. Now to replace the patch on the carpet, it is important to know the direction of the carpet nap.
The professional will then align the nap of the remnant piece in the carpet's nap direction. Once done, the carpet repair technician will set the remnant piece on the original carpet.
Step 3: Insert the Remnant Piece
Professionals use carpet tape, two-sided adhesive tape to insert the remnant piece. Carpet repair technicians place the tape carefully to have a lasting effect. Once placed, they apply pressure so it sticks properly.
Step 4: Blend and Trim the Carpet
The professionals trim off any long fibers sticking out of the patches. Finally, they will rub the carpet with a carpet roller or comb to merge both of them together.
Contact Us To Replace Patches of Carpet Today!
With the help of Portland NW Carpet Cleaning's carpet repair specialist and make your old carpet look new.
Contact us on (503) 547 4405 to elongate the life of your carpet. Connect with us on Facebook for new updates.